What we offer
Mining Club offers a reliable cloud solution for investment mining facilities.
Our purpose is to make the cryptocurrency mining process accessible to everyone, regardless of experience, amount invested or technical abilities. We use the latest and most reliable mining equipment, made in Russia which is technically superior to the analogue equipment of our competitors.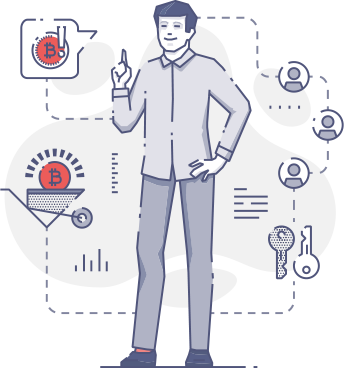 Our farms are located in the Russian Federation, and supervised and maintained by highly qualified technical specialists.
You won't have to understand any technological difficulties, or pay colossal amounts for electricity bills. We will do all this for you. You will only have to choose a package with an appropriate equipment capacity.

A clear comparison between mining.club and individual mining
Partnership with Mining.Club:
---
a one-time payment for the purchase of the Contract;
we assume all costs for delivery, installation, connection and replacement of equipment;
we use renewable energy sources to get the electricity for the best price;
we guarantee an uninterrupted service;
we use modern cooling and air purifying systems inside our farm;
we provide an uninterrupted hashrate for our customers;
our farm creates no noise pollution, since the equipment is installed in a remote location
Independent mining:
---
expensive equipment;
expensive delivery and potential customs costs, as well as a need to install and configure the equipment by yourself;
high electric power charges;
due to warranty cases, you are subjected to unpredictable periods of system downtime, which causes the loss of mining time;
costs for cooling and air-purifying equipment plus high energy consumption;
noise from farms which are based on video cards
Advantages of mining with Mining.club

Low equipment rent prices
Mining.Club is the biggest token - holder and official dealer of the RMC group, the only mining equipment producer in Russia. This allows us to keep optimally low prices for equipment rent, reduce waiting times for hashrate and provide our customers with dealer support and services.

Optimized maintenance costs
Maintenance is a significant part of overall mining costs. Our system is designed to decrease electricity and cooling costs. Only highly qualified specialists are hired to keep our system functioning.

Reduction of mining costs
Acquisition and configuration of any complex equipment requires specialist knowledge. Therefore, this task can be entrusted only to technically competent and highly qualified professionals.
Thorough personnel selection and testing allow us to significantly minimize the costs of equipment maintenance.

With us it is better
Experienced miners, who started their activity at the dawn of the cryptocurrency "movement", mining from home, using their own equipment, claim that they manage to do more cheaply.
However, they completely lose sight of some types of costs they need to bear. Before, in this page we compared the costs of independent mining and mining on our resources. The result does not favor independent home mining.